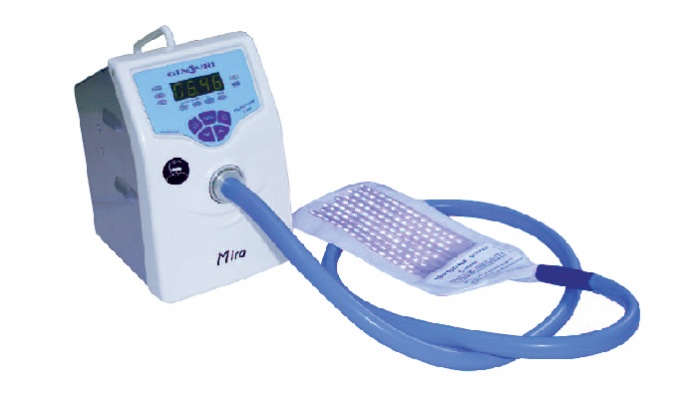 Fiber Optic Phototherapy
The phototherapy lamp MIRA, use latest LED technology to produce blue therapeutic light (peak 460nm) and fiber optics to give therapy to little patients affected by jaundice. It has a compact and light structure with a soft touch control panel where are presentwarnings, alarms and a wide display indicating therapy time, highly visible up to 7m.
The therapy light, produced by a high power LED, is transmitted, trough a flexible fiber optic cable, to a lightening element of small dimensions that has to be placed in contact with patient skin.
One of the characteristics is that of being able to set an "intensive therapy" further to the "normal therapy".
The compact design of the system enables to perform the therapy directly in the baby cot as well as for homecare. If necessary it can also be used combined with other conventional phototherapy lamps, therefore ensuring maximum therapeutic efficiency and a sensible reduction of the therapy exposure time for the patient.
The phototherapy lamp MIRA is portable and can be positioned on a shelf or on a pivoting trolley.