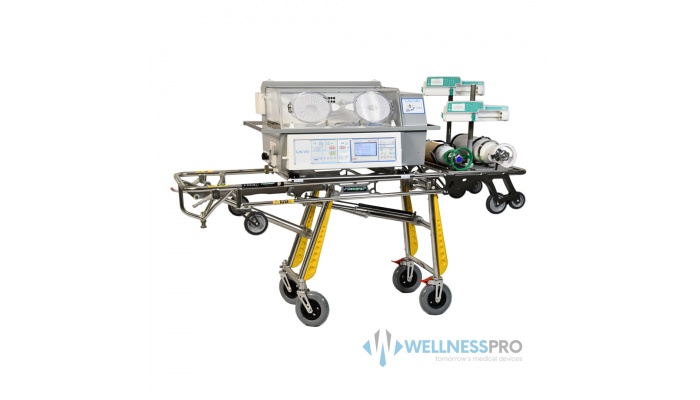 Intensive Transport Incubator with Ventilator
The BABY SHUTTLE is microprocessor driven, it controls all the parameters necessary to obtain the ideal microclimate for the premature baby in any environmental condition. The desired parameters values are set through soft-touch sealed keys arranged in an intuitive and error free pattern.
Data are displayed on colour LED or LCD screen.
The hood grants the maximum strength and a thermal insulation and is also crushproof. This opening system, allows the maximum operability into the space patient even if the useful height of the means of transport is limited.
The Baby Shuttle transport incubator is equipped with the Smooth Tilt bed positioning system which allows the continuous and smooth adjustment of the posture bed.
The main module of the BABY SHUTTLE incubator - TEMP MODULE - thermo-regulates the temperature in the AIR mode with proportional heating, controls the battery charging and the incubator's safety systems.
In addition servo control in SKIN mode with proportional heating - SKIN MODULE - is available.
The Baby Shuttle incubator is equipped with a Battery Pack including two high capacity sealed up batteries, with internal gas recombination, to guarantee an autonomy over the limit of 90 minutes according to the safety rules thus ensuring the maximum efficiency of all the parameters.
This quality allows the Baby Shuttle to be air-transported. The Baby Shuttle accepts a double external power supply, 12 VDC and 230 VAC, with an automated selection of the power source and it, automatically, charges the batteries through the main power
Product Information
Features
The most advanced technology for neonatal high risk, internal and external transport
Compact, light and complete
Specifications
MICROPROCESSOR: Yes
Air: Servo control
Range: 20-37°C override 38°C (0.1°C steps)
Skin: Servo control (optional)
Range: 25-37°C override 38°C (0.1°C steps)
Battery Autonomy: 90 min
Alarms: High and low Temperature, Max Temperature, Fan Failure, Main Failure, Low Battery
Tilting Bed: + 12°
Noise : < 50 dB
MaxCO2: < 0.5%
Doors: 1 Main, 2 portholes, 1 Side
Material: Body in Aluminum, Hood in Plexiglass
Max Load: 10 Kg
Dimensions: 100x54x49 cm
Weight: 50Kg (depending on model)
Power Supply: 230Vac 50-60HZ o 12Vdc, 22A, Internal Battery 36Ah
Power: 490W (Normal), 530W (Special), 580W (Intensive)
Safety Class: I B