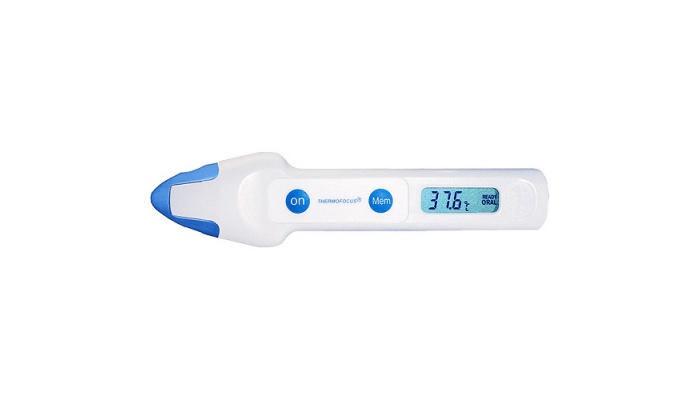 Non-Contact Thermometer
The brain is the most delicate organ of our body and it is the one that can be more damaged by temperature excesses. At the same time the head is the first part of the body that changes its temperature when in a feverish state, both when fever is raising and when it is getting lower.
Thermofocus is the first at-distance clinical thermometer in the world, result of a series of international patents. 
Thermofocus is the no touch thermometer, designed to allow you to take your baby's temperature without even touching him/her. With Thermofocus, taking your baby's temperature becomes a sweet gesture, just like a caress. It is enough to get Thermofocus close to your baby's forehead to see his/her body temperature in a few seconds.
Thermofocus is perfect for children and functional for adults, because the temperature measurement is quick, precise, hygienic, safe and can be done with your complete comfort.
Thermofocus collects at distance the infrared emissions that all the objects and the living beings diffuse in relation with the body's superficial characteristics and in a bigger proportion when the body temperature is high. Thermofocus takes the body temperature on the forehead. The forehead is the perfect place where to take the temperature because it is supplied by the temporal artery, that receives blood from the aorta and the carotid which ensure a significant blood flow in that area; moreover the forehead is the only part of the head in direct contact with the brain that is not covered with hair.
Product Information
| Specification | |
| --- | --- |
| No. of buttons | 3 |
| Room temperature detection | Yes |
| MQCS (Manual Quick Calibration System) | Mandatory |
| Brief additional instructions on battery door | Yes |
| Lanyard with additional brief instructions | 1 included |
| Batteries (included) | 4 AAA/LR03 type (preferably alkaline) |
| Resolution | 0.1°C (0.2°F) |
| Forehead measuring range | 34.0/42.5°C (93.2/108.5°F) |
| General measuring range (apart from forehead) | 1.0/55°C (33.8/131°F) |
| Room temperature working range: | |
| --- | --- |
| measurement on the forehead | 16/40°C (60.8/104°F) |
| other measurements | *16/40°C (60.8/104°F) |
| Accuracy level (in instrumental tests according to ASTM E 1965-98 standard): | | |
| --- | --- | --- |
| from 36 to 39°C (96.8/102.2°F) = | +/-0.2°C (+/-0.4°F) | |
| from 34 to 35.9°C (93.2/96.6°F) = | +/-0.3°C (+/-0.5°F) | |
| from 39.1 to 42.5°C (102.4/108.5°F) = | +/-0.3°C (+/-0.5°F) | |
| rom 1.0 to 19.9°C and from 42.6 to 55.0°C = | +2.0/-1.0°C | +/-1.0°C |
| (from 33.8 to 67.9°C and from 108.7 to 131°F) = | +3.6/-1.8°F) | (+/-1.8°F) |
| from 20 to 33.9°C = | +2.0/-0.3°C | +/-0.3°C |
| (from 68.0 to 93.0°F) = | (+3.6/-0.5°F) | (+/-0.5°F) |