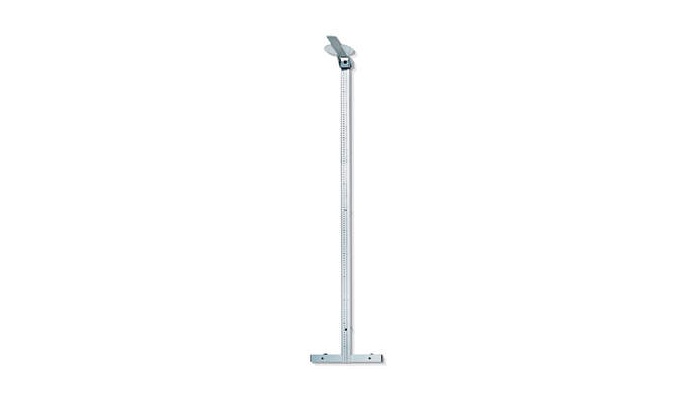 Mechanical Telescopic Measuring Rod with Large Measuring Range
Specially developed for wall mounting, this measuring rod is aligned to work exactly to the millimeter from head to toe. Its broad measuring slide and heel positioner are professional prerequisites. The telescopic measuring rod ensures that the result can be easily read at eye level even for the tallest patient. When not in use, the measuring slide can be folded down for safety
Product Information
| Specifications | |
| --- | --- |
| Measuring range in cm: | 6 - 230 cm |
| Measuring range in inch: | 2 - 90 " |
| Graduation [Measuring Rod]: | 1 mm / 1/8 inch |
| Measure (W x H x D): | 308 x 2320 x 286 mm , 12,1 x 91,3 x 11,3 inch |
| Net weight: | 1,1 kg , 2,4 lbs |
| Funtions: | Wall-mounting |
| CE: | CE 0123 |
Features
Telescopic measuring rod with large measurement range up to 230 cm.
Extra-broad slide unit.
Includes heel positioner for ideal three-point measurement.
Developed for wall installation.
Results are easy to read even for very tall patients.
The rod is made of durable aluminum.
Abrasion-resistant height rod made with a high-quality screen printing process.