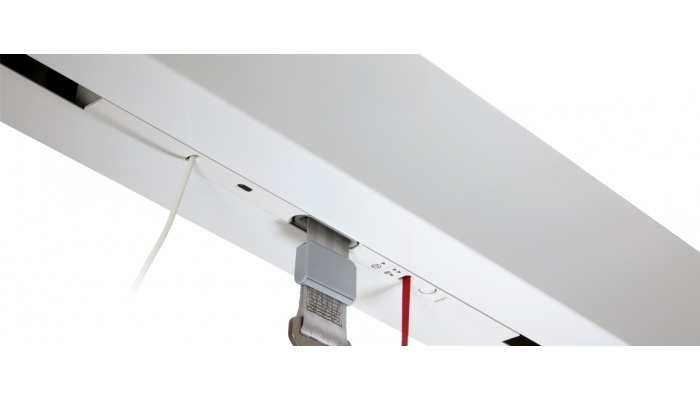 Lifting module – discreet and elegant
The GHZ is a discreet – almost invisible – lifting module that ensures safe and comfortable lifts and an ergonomically safe working environment for care staff. The lifting module runs along the traverse rail, minimising the embedding dimensions and allowing extra lifting height, which can be a major benefit in rooms with low ceilings.
The GHZ is easy and intuitive to use, and the uncomplicated design makes the system simple to clean.
The lifting module is charged by placing the hand control in the GHZ docking station. A fully charged lifting module can perform more than 55 lifts of 85 kg. The GHZ can be installed on Wall rails in all types of walls, and the GHZ traverse rail automatically compensates for wall irregularities of up to 80 mm.
If a continuous traverse rail system is chosen – which provides full coverage for efficient moves directly from the bedroom to the bathroom, for example – the traverse rail can be "parked" discreetly while the lifting hanger and sling are stored in a built-in cupboard.
Combined with products from the comprehensive Guldmann range of lifting hangers and slings, the GHZ ceiling hoist is the perfect choice for many different lifting and moving procedures, and can also be used to assist with gait training, balance training and personal care procedures.
Product Information
Features
Almost invisible
Lifting capacity up to 255 kg
Minimal built-in height – high lifting range